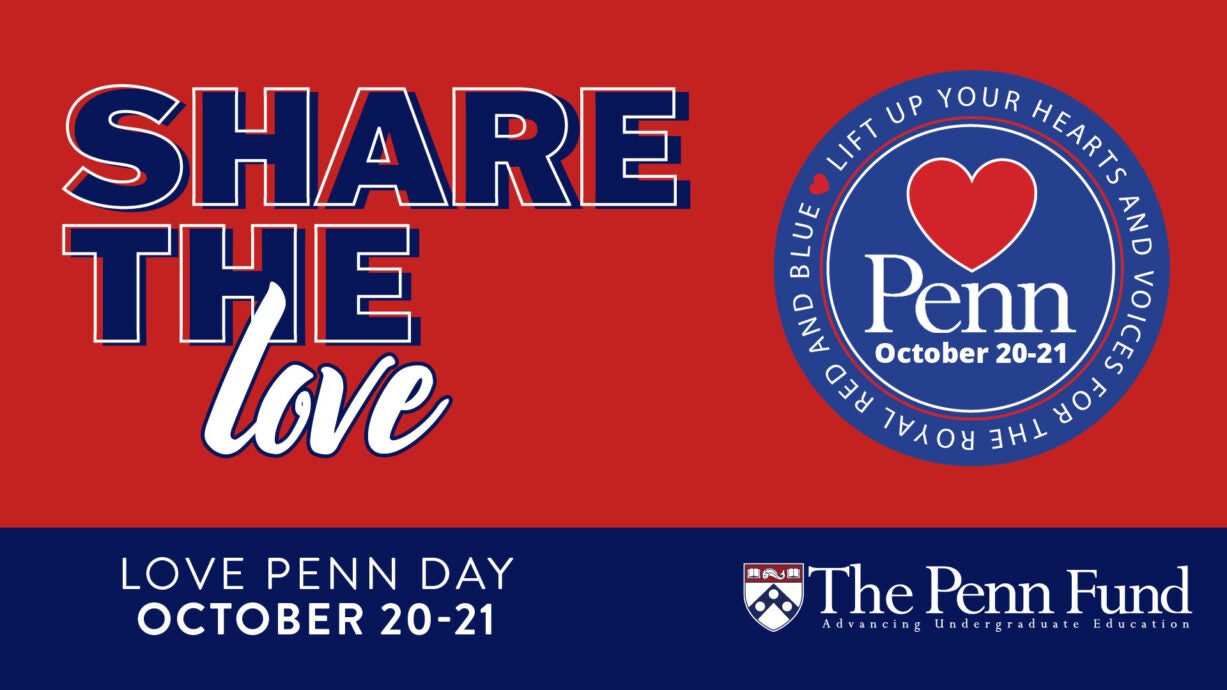 Love Penn Toolkit
Let's Do This!
Thank you very much for showing Penn some love and partnering with us to inspire others to make a difference for current undergraduate students at the University!
We encourage you to post on social media and email or text your alumni friends, classmates, and peers—with the images, sample post language, and email templates below—to help bring the entire Quaker community together for this important effort.
Let's get started!
Volunteers, like you, create a tremendous impact on campus through your philanthropy.
We hope getting involved and spreading the word is easy with the content and information below. Thank you, thank you again for reaching out to your fellow Penn alumni to ask them to invest in undergraduate student life and learning, as well.
Items to Do Between Now and Wednesday, October 19
Follow Us
Follow and "like" The Penn Fund on Facebook, Instagram, and LinkedIn to interact with and receive updates about this important community effort.
Show Penn Some Love
Share on Social
Tell your Penn friends and peers about why you give and invite them to join you by sharing the following graphics and sample caption on social media or reaching out via email with the text template below.
Save the Date Social Graphics
Save the Date Sample Caption
Save the Date Sample Email
Items to Do on Thursday, October 20 and Friday, October 21
Make Your Gift
Give to this special effort and be counted as a Love Penn donor!
Engage and Connect with Fellow Quakers
Reach out to friends and classmates to ask them to join you in supporting current Penn students with the sample text below.
Share on Social
Promote Love Penn images and content on your social media accounts and/or share The Penn Fund's posts!
Day Of Social Graphics
Day Of Sample Caption
Day Of Sample Email
Didn't find the answer to your question?
Contact The Penn Fund Team.